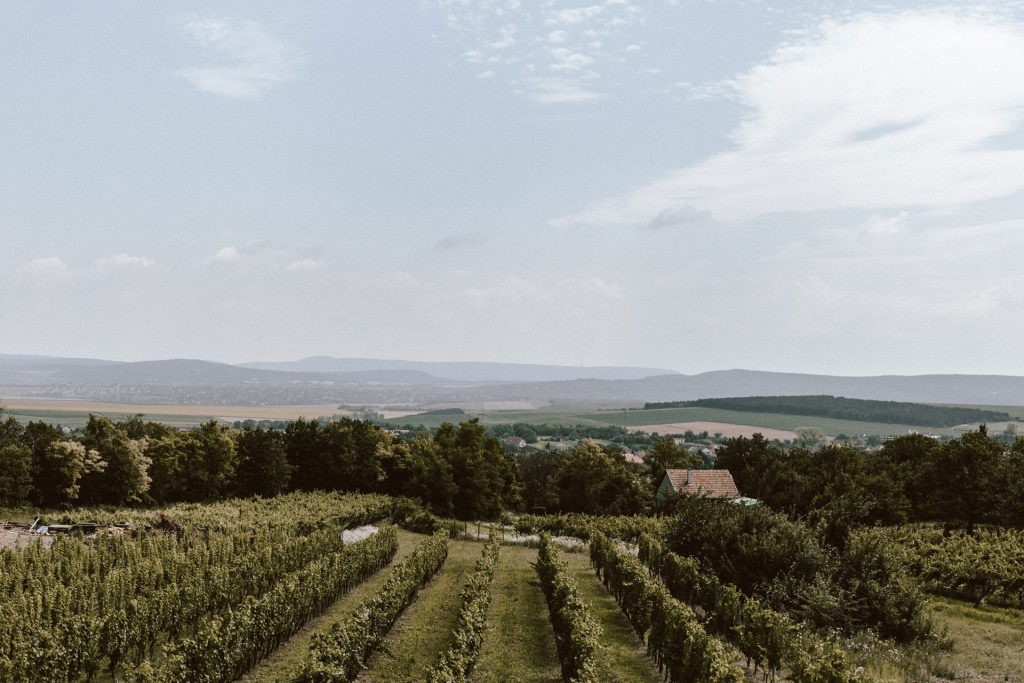 About us
Our family has lived and worked in the Etyek wine region since 1993. In the early years, we only wanted to introduce to the village our distilling traditions brought from Vojvodina, but after a few years we found ourselves helping the local Swabian community to pick the grapes at their harvests. So it wasn't difficult to fall in love with, and try our hand at, wine-making. We received a lot of support and help from the local winemakers, and we also made many friends in other wine regions of the country.
Fortunately, over time the whole family found its place in this new world for us, and now two generations work together, side by side, helping each other. Our estate has developed a lot in the last 25 years or so. The initial, manual solutions using kitchen utensils have now been replaced by much more conscious wine cellar technology. However, despite the use of modern equipment and state-of-the-art processes, our aim has always been to keep the design of the estate family-friendly, natural and cosy.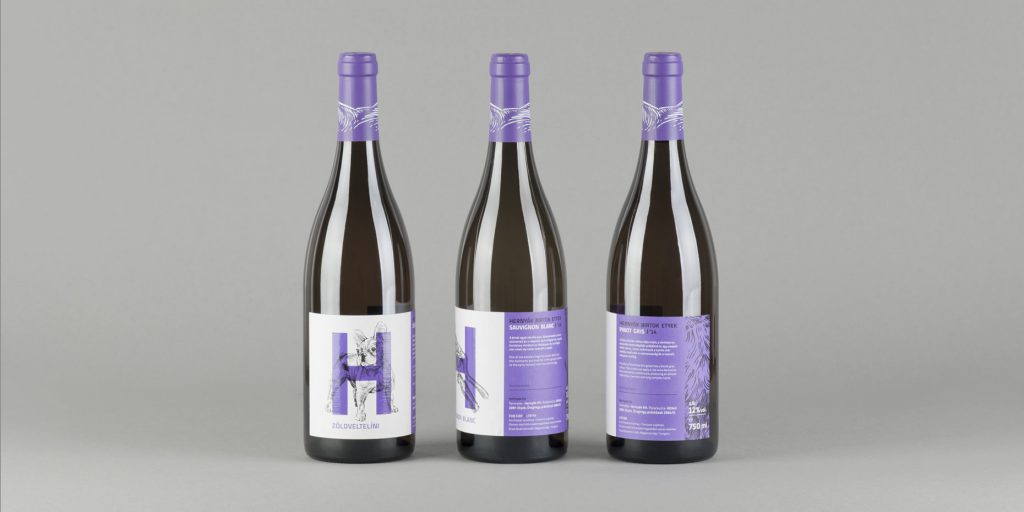 Our common dream was to create a self-sustaining business where wi-fi and ladybirds, pneumatic pressing and manual punching down, air-conditioned tractors and handheld hoes can coexist, and even help each other in some ways. Our life is an open book for our guests, and its lines are being written as we speak. Each year, one of our countless plans is realised, because we believe in gradual and organic development – we look forward with patience.
After a lot of planning and gathering of experience, the estate switched to organic farming in 2015, which has resulted in even healthier grapes and wines. For us, organic plant protection is just one pillar of this work. Composting, the continuous integration of renewable energies, conscious and sustainable energy management, greening and the chemical decontamination of our environment have become priorities in our whole life and way of thinking.
Thanks to the exceptional climatic conditions and the valuable chalky soil, this area of the country offers endless opportunities for growing grapes. Our aim is to learn all the secrets of the 7 hectares of land acquired over the years, to be able to harvest the grapes every autumn under the most optimal conditions.

We dedicate a key role in the life of Etyek to sparkling wine. We believe that the professional development of the coming years will grant Etyek a style enabling it to excel nationally, and then internationally. This is why we are now working with local winemakers to create the first Hungarian protected designation of origin for sparkling wine in Etyek.
Organic farming
For twenty years, we have been looking for the best solutions and opportunities. Not just in the fields, in crop production or wine making, but also in tourism, in hospitality, and in appearances. We are never satisfied with the ordinary, the average, we are never satisfied with good or acceptable.

That is why we switched from conventional to organic plant protection methods, which after 20 years of viticulture can still show us something new. For us, organic means more than just gentle spraying. For us, it is about respect for plants and nature. It is about subjecting ourselves to the ancient laws as much as we can. We are not trying to "break nature in", but to live with it, to serve it.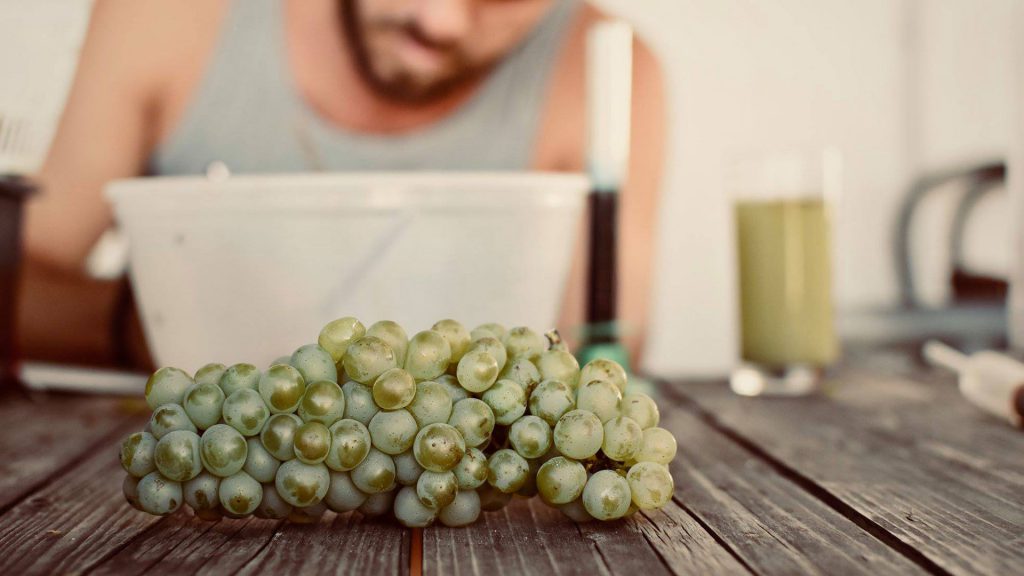 We do not stop at just using renewable energy or composting. With the recent addition of our botanical garden, we now grow most of our own spices, herbs, kitchen garden vegetables and tea plants. The aim is to develop a sustainable operation using 21st century technologies and knowledge. Our plans include Laci Hernyák's long-cherished dream of creating a herbal liqueur from herbs we grow ourselves. In time, as our opportunities allow, backyard poultry, sheep and lambs will also make our family life and the everyday life of our estate more colourful. Following a successful 3-year organic trial period, our estate began the "transition" to obtaining an official "BIO" rating in 2018. BIO certification can be obtained after a 4-year period. Administrative red tape or not, we were drawn in by the organic approach. Today we can't imagine our lives any other way.
Our products
Wines
Our wines are made using the most gentle and organic of procedures. Both our team and our tools represent a blend of tradition and modern spirit. Laci Hernyák's decades of experience dovetail perfectly with Tomi's newer expertise gained abroad. Both aim to maintain a level of natural sophistication and create their own unique style.
The authenticity of our wines lies in the joy we take in each stage of the wine-making process. This is how an occupation becomes a calling, a way of life…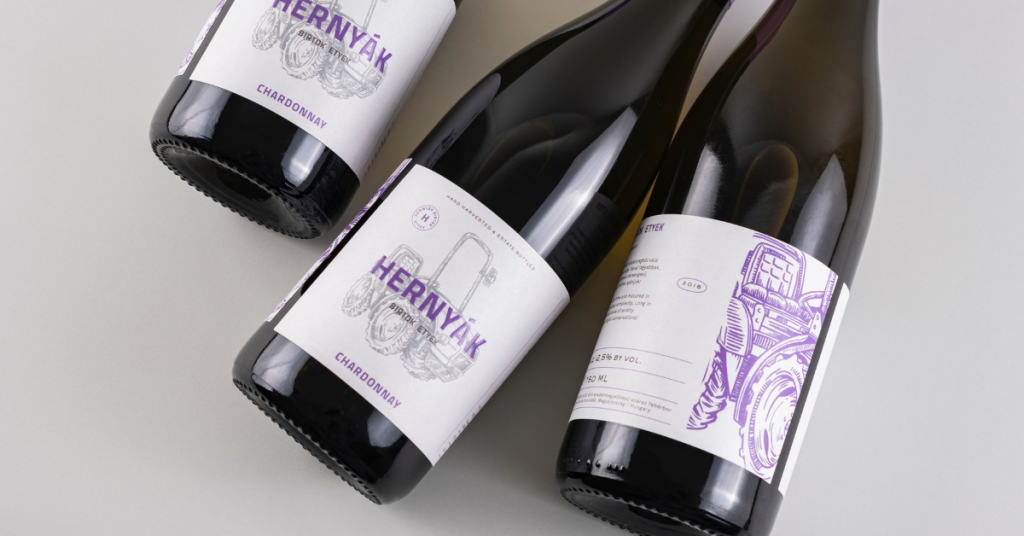 The leading grape varieties for us and in the region are Sauvignon Blanc, Chardonnay and Pinot Noir. In addition to these, we also work with Királylányka and Zöldveltelini. Our cellar combines the possibility of controlled fermentation in steel tanks with the use of traditional wooden barrels. We prefer a late harvest, and wines that are more complex, concentrated and full-bodied. Besides the light reductive wines common in the region, we try to present more full-bodied and exciting wines as well.
Sparkling wine

In the coming years, Etyek will be able to firmly establish itself on the Hungary wine map with its sparkling wines. Our family is a committed believer in the future of Etyek sparkling wine. Tomi went on study trips to Champagne several times, from where he brought home a love for the grapes and bubbles as well as secrets of the trade. Our French mentors help us identify the most appropriate grapes and technology so that our sparkling wine not only imitates the best champagne houses but can develop its own uniqueness in the future too.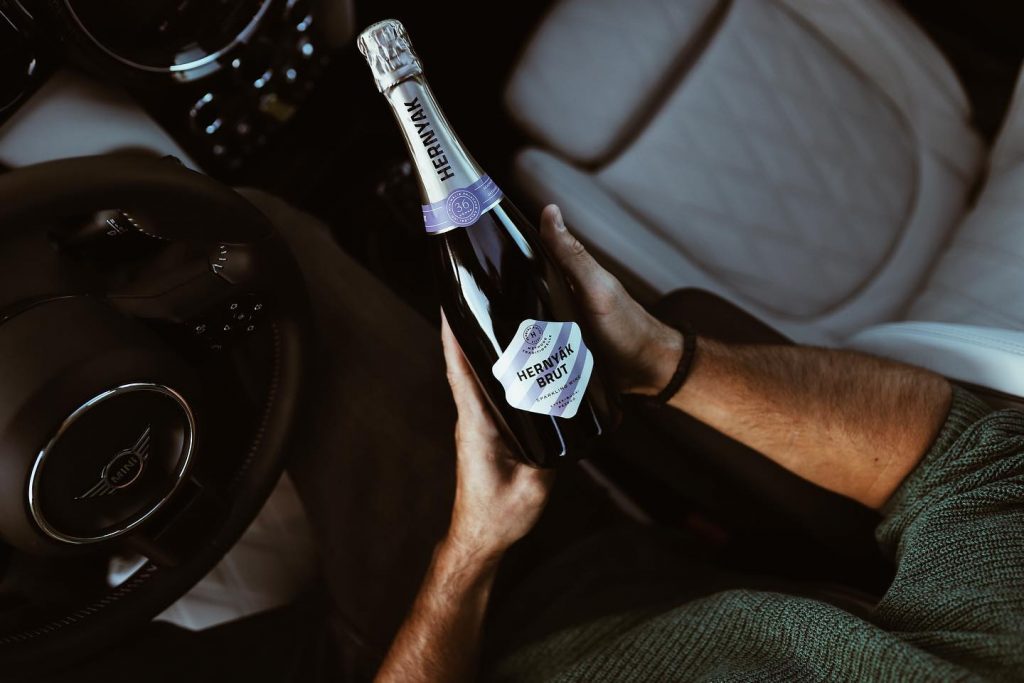 In addition to the recognised world-class grapes of Chardonnay and Pinot Noir, we also attribute a significant role to another member of the pinot family, Pinot Blanc. Fermentation is instrumental in our sparkling wines, just like in our spirits. We do not disgorge them until they have matured for at least 2 years in the bottle. We believe the quality of bottle-fermented sparkling wine only improves the more it matures.

The Hernyák Estate takes part in and supports the establishment of the Etyek Protected Designation of Origin for sparkling wine initiative, which in the future will result in the most progressive community work of any wine region.
Pálinka
Back in the days when we lived in Vojvodina in northern Serbia, it was natural to make lovely fruit brandies (pálinka) from the juicy Bačka fruits using our home pálinka distillery at the end of the garden. On our estate in Etyek we now create our unique spirits by drawing on our professional experience and using our professional still. All of our spirits are matured, often for many years in wooden barrels, and they offer a unique quality on the Hungarian market. Besides the pomace spirit and brandy we make, we also distil and mature the pomace of the Szepsy family from Mád. We use special barrels, which ensure a complex taste and aroma. Besides the oak barrels most commonly employed in the world, we also use mulberry, ash, chestnut and used Tokaji Aszú barrels. Our youngest brandy is bottled after 3 years. Our five-barrel spirit (Öthordós) matured for 5 years, but other older spirits are also waiting in the barrels to be bottled. Our aim is to line our products up besides the greatest and most valued matured spirits of Hungarian and world gastronomy (cognac, brandy, whisky, grappa).
Events
Our estate spreads out over more than 1 hectare and is perfect for events of different sizes. The three wine-tasting rooms each offer space for 20-30 people indoors and 20-60 people on the terrace, while our Botanical Garden is ideal for corporate or family events of up to 100 people. Thanks to the large green area and the available parking, with the help of good weather we can organise events for up to 200 people as well.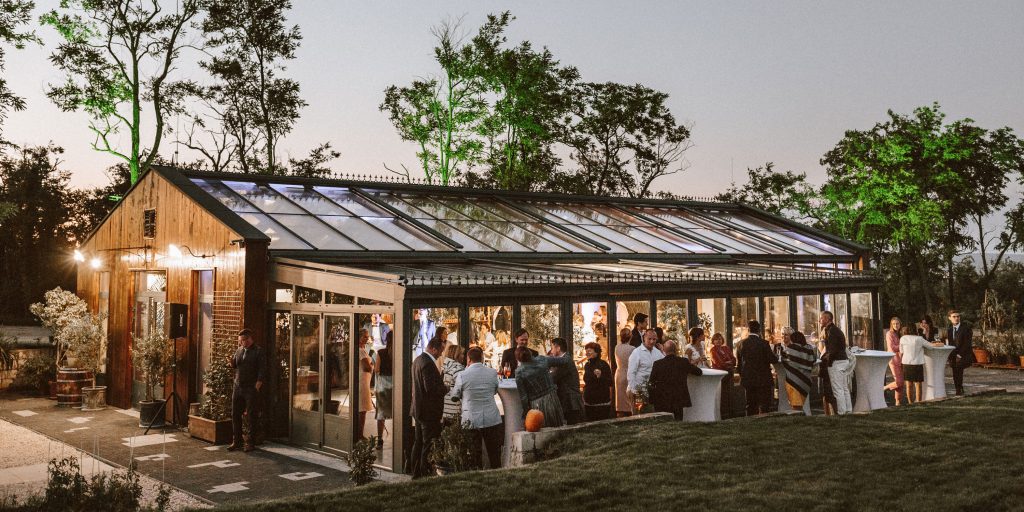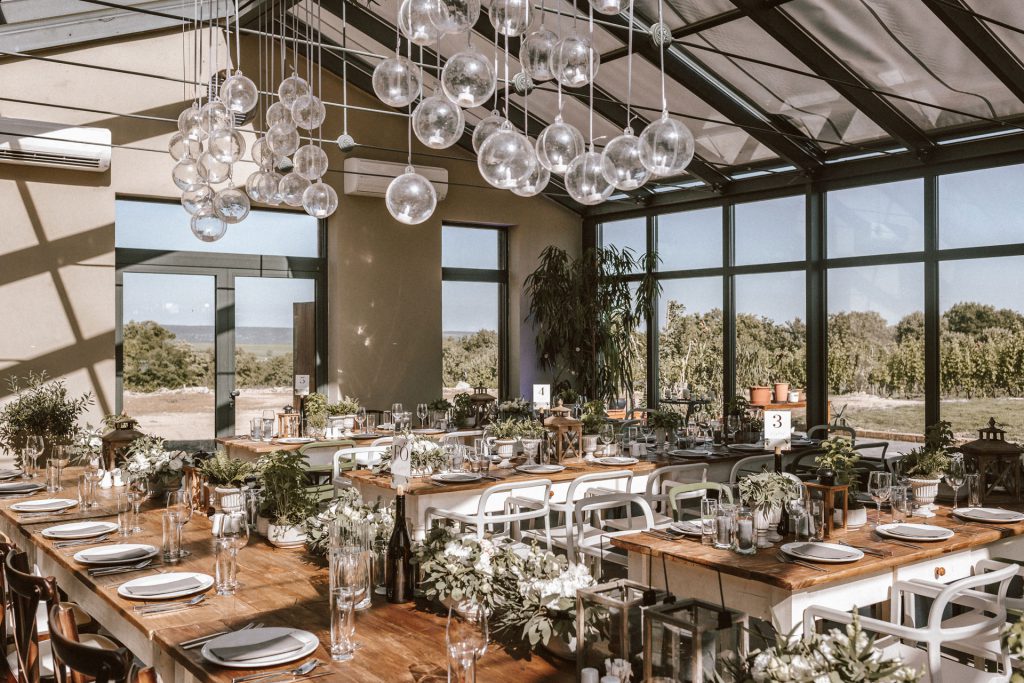 Weddings in the Botanical Garden
Our glassed botanical garden built in 2017 and the event venue designed around it next to the vineyard means every bride and groom can enjoy their dream day in a beautiful natural environment.
For more information about the various styles and themes we can offer for your weddings and events, please contact us at info@hernyak.hu or on +36 30 274 8994.
The team
Vali Hernyák
Life is a journey, shaped by encounters. The world of grapes, wine and spirits is full of challenges. But these are what make us stronger. Our estate is based on authenticity. Customer trust is what motivates us to deliver.
info@hernyak.hu / +36 30 274 8994 
Laci Hernyák
For me, wine is about starting again. About building the estate, the family, and artistic self-realisation. It gave me an answer and an opportunity at a time when I thought there was no way out. I now know that it was not only a way out in my life, but the path everyone is looking for!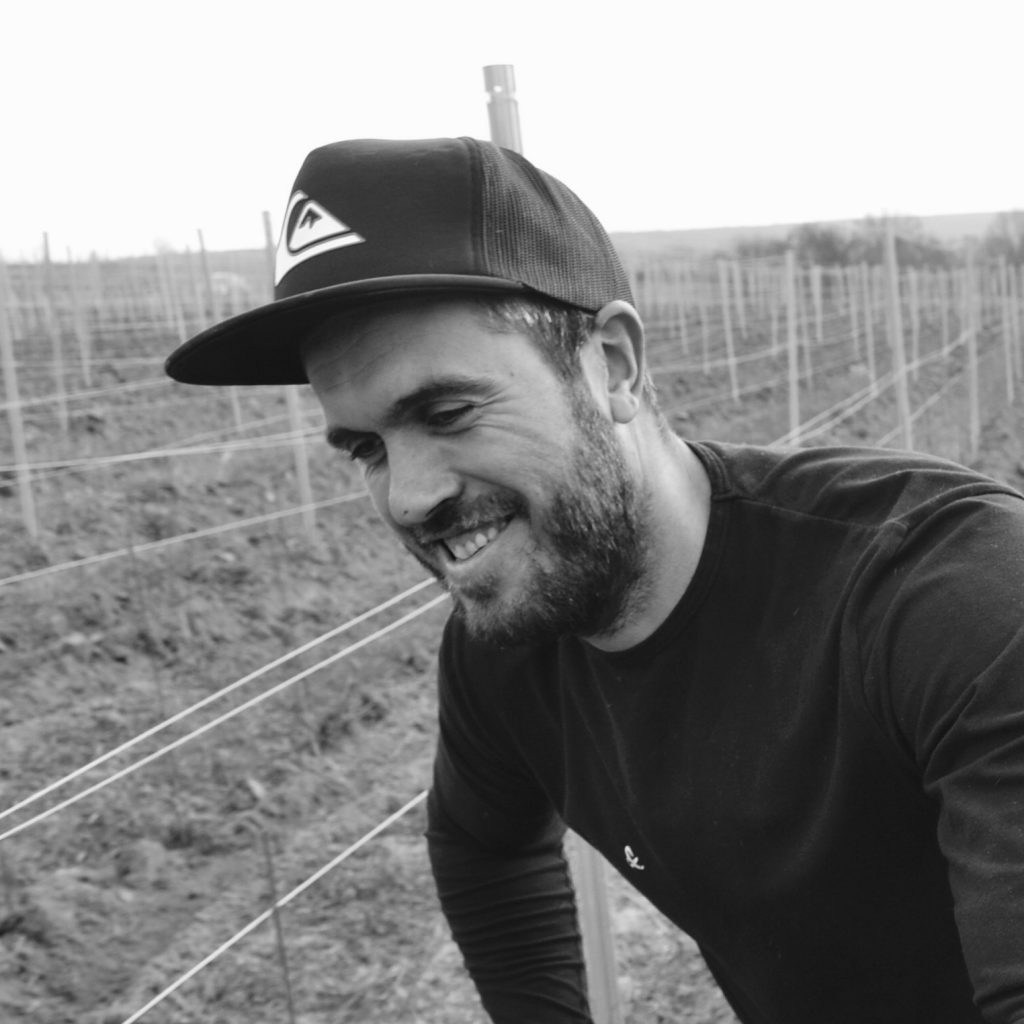 Tomi Hernyák
For me, wine is a synonym for creation, coexisting with nature, harmony, lifelong learning and teaching. The work is never-ending, but varied. It offers a great deal of tranquillity, with the restless dynamic of change.
t.hernyak@gmail.com
Contact details
Address: Etyek, Öreghegy présházak, 2091
Email: info@hernyak.hu
Telephone: +36 30 274 8994
Please use our official email address at info@hernyak.hu if you wish to ask for a quote, book a time with us or reserve a table. Thank you!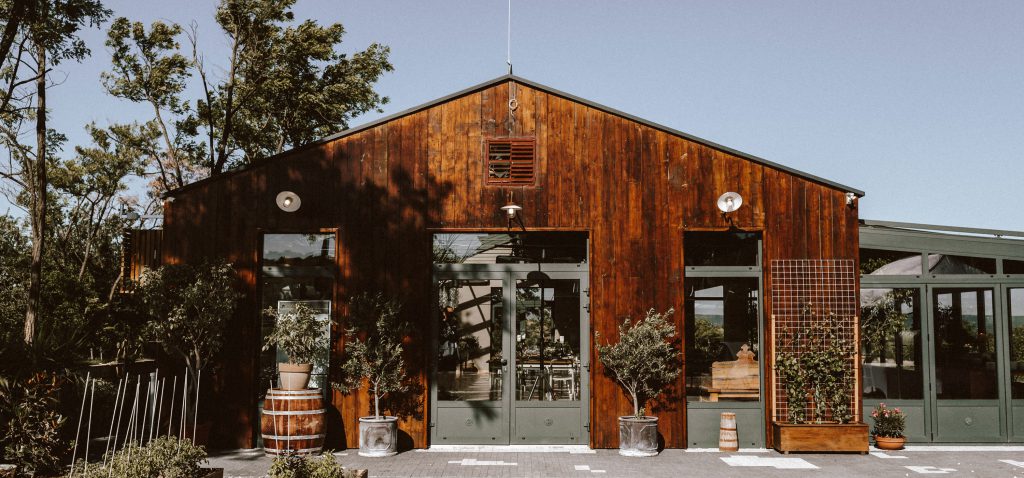 Tenders
Tender ID: EXP2020-NEP-000062
Tender title: Increasing participation of Hernyák wines, champagnes and gins on foreign markets, increasing product value, facilitating resource efficiency in processing
Project duration: 1 September 2020 - 30 November 2022
Funding: HUF 49,056,000

Content of tender
Hernyák Estate aims to enter foreign markets, primarily online and by organising product presentations. The primary target markets within the EU are Romania and Serbia. A further objective is to establish export activities outside Europe, in Japan and Canada. Given the current situation we are mainly thinking of organising our own events. With smaller numbers of people (up to 150) invited to our product presentations we can meet the new safety requirements brought in as a result of the pandemic. However, for greater reach we would like to expand our online platforms too. We would like to develop a virtual presentation space where potential buyers can find all the necessary information about our products (in the form of an online catalogue), initiate purchases like a webshop, and can also contact us immediately online to ask further questions.

The primary aim of this change is to foster progressive development and grow our export market in line with the changed market conditions.
European Agricultural Fund for Rural Development
Beneficiary's name: Hernyák Termelő és Szolgáltató Kft.
Name/code of call for applications: VP-3-4.2.1-15; Increasing value of agricultural products, facilitating resource efficiency in processing
Project title and ID: 186802458
Amount of contracted funding:
Rate of funding (in %): 50%
Planned completion date of project: 30 September 2020

Brief description of project content
The objective of our development is to construct a state-of-the-art, energy-efficient building based on renewable energy sources, enabling us to expand our current scope of activities. When designing the building we took food industry standards into account, which will be one of the primary aspects during the construction too. In the spirit of energy efficiency, we have constructed an isolated solar power system, so the energy produced this way can be used to power our estate.
During the technology design we paid special attention to the application of gravitational processes, so connecting the ground floor and the cellar via technology during processing is crucially important. The development rests on three basic supplementary activities. The fundamental idea was to further process by-products of grape processing to generate added value. The end-products are pálinka and a high-quality brandy (produced by distilling wine fermented from grape must), oil, produced naturally by cold pressing, filtration and sedimentation, and jam, kept at a low temperature (to preserve vitamins and antioxidants) for a long time until the right consistency is obtained. The end-products fit in well with the principles of natural organic processing at the Hernyák Estate without chemical additives, as well as the principles of healthy nutrition and related hospitality.